Disclosure: Please note that I may benefit from purchases made through my affiliate links below, at no cost to you. Additionally, as an Amazon Associate, I earn from qualifying purchases. Thank you for your support

The week between Christmas and New Year is my favourite time of the year.
The stressful preparations for Christmas celebrations are over – the baking, cooking and entertaining are done and dusted.
I always look forward to getting some 'me' time during this week.
And it's the perfect time to reflect on the year that has gone by and look forward to the year ahead.
I must confess that before finding FIRE (Financial Independence Retire Early) in 2018, I never bothered reviewing my finances. As long as I earned enough to pay the mortgage and spend on what I want, I was happy.
However, since the end of 2018, I have used the following financial checklist to review my money goals and the processes to make them happen.
As a result, my finances have improved every year – from being clueless at 47 years old in 2018 to reaching Coast FI in 2021. And from being anxious that I hadn't saved enough for traditional retirement at 67 to being on track to retire early at 55.
Doing an annual review and seeing my progress year on year is hugely motivating and encourages me to stick with the process.
The financial checklist I use is divided into 7 areas –
– Expenses
– Savings
– Debt repayment
– Investment outside of retirement account
– Retirement account
– Income
– Charitable giving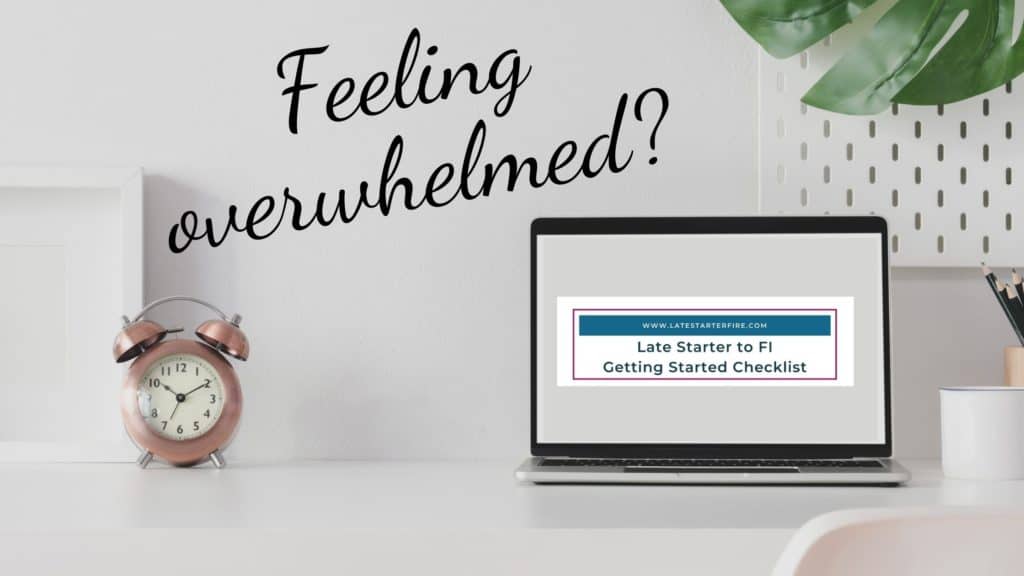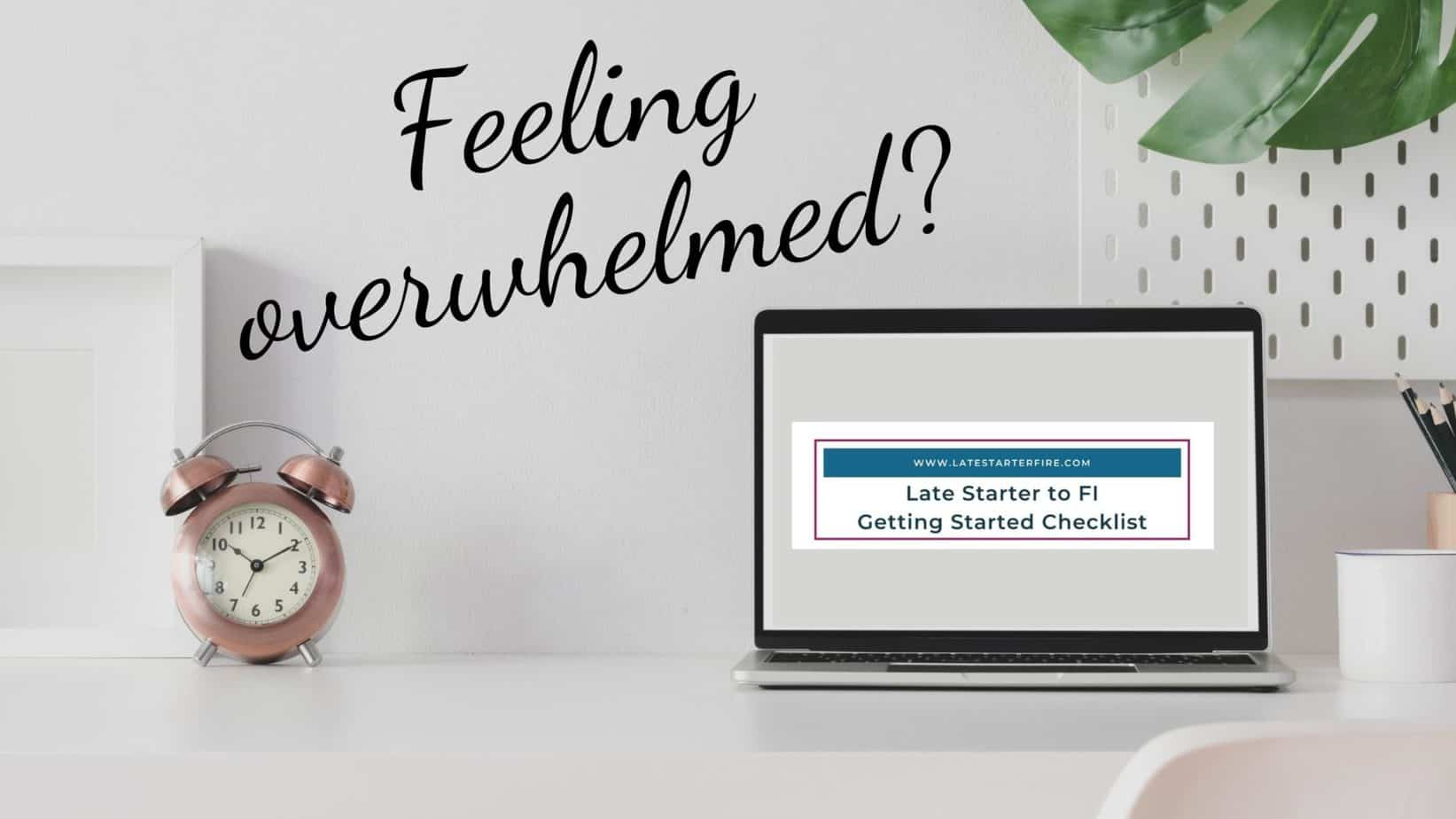 Use this FREE Checklist to start your journey to Financial Independence

Do you know where your money goes?
It is a mystery sometimes how expenses add up without us being aware of it. $50 here, $200 there …
And that is why tracking expenses is critical here. If you are not aware of your spending patterns, you can't do anything to rein it in. Or decide on which categories you can increase spending such as self care and donations.
If you track your expenses, it is easy to look back over the year and look at which categories were the highest and lowest. Was it expected? Are you happy with these amounts?
If you don't track your expenses, now is a good time to start. Simply start by recording all transactions with pen & paper or the notes app in your smart phone or if you prefer a spreadsheet, I created one in this post on tracking your spending.
You may not want to spend ages at this time diving into recurring accounts such as subscriptions and utility bills. That's ok. But it is a good time now to schedule a time later to compare energy suppliers, internet plans and so on.
And with the subscriptions – are you using them? If not, cancel them immediately or schedule a time to do it later, especially when free trial periods end.
The exciting part is to look ahead into the new year. Will you keep those spending amounts roughly the same or increase or decrease it? If it is a category that will increase significantly, how do you plan to pay for it?
For example, I know I will probably travel overseas in the next 12 months, as borders are relaxed and Covid restrictions lifted. So how will I pay for the travel?
I start by estimating how much it may cost. And check my 'travel' sinking fund, a savings account I set up to save specifically for travel. Because I have spent ZERO dollars travelling in the last 2 years, I am ecstatic that I do have enough there for an overseas adventure. Yes!
I ask 3 questions as I look at my emergency fund and various sinking funds.
a) Are the funds still needed?
b) Is the current balance adequate for the purpose it is intended?
c) Do I need to make any adjustments to the automatic transfer of funds from my weekly pay?
Let's use my home maintenance fund as an example.
Yes, I still need the fund because my house is now 20+ years old and there will be things to fix or repair that I am not even aware of. There is already a growing list of things to do in this category.
My aim is to have $10k in this fund by the time I fully retire so I have 5 years to build this fund. I am starting from zero in 2022 as I have depleted what little savings I had in this account in 2021. It's been a year of everything falling apart, what can I say?
So the next step is to review the amounts that I've set up to automatically deduct from my pay every week. Do I need to increase or decrease it?
The priority is not so urgent anymore with my home maintenance fund. The things that were hanging on have already broken down in 2021 and fingers crossed, all the appliances I replaced will last another 20 years.
And because I raided the emergency fund to pay for some of the home maintenance bills, my priority now is to replenish the emergency fund. So in this case, I will tweak my automation to reflect this change.
The end of the year or beginning of a new year is the perfect time to review your debt repayment strategy.
I would ask 3 questions here –
a) How much is left in each loan?
b) Can I get lower interest rates if I refinanced with another lender?
c) Is there a loan that I can pay off quickly ahead of schedule?
Schedule in a time to research interest rates and approach alternative lenders if applicable. A 5 minute phone conversation with your mortgage lender may end up saving you hundreds of thousands of dollars over the course of a loan.
Next, review your repayment amounts – are there any that need tweaking? Go back to expenses and see if there is any category you can reduce to free up some money to pay a debt off sooner. Alternatively, can you pick up extra work?
Personally, I don't have any debt as I paid off my mortgage just before I found the FIRE community. But I do ask myself once a year at this time if I'd want to go back into debt to supercharge my investing strategy. Spoiler alert – my answer has been 'NO' so far 🙂
4. Investment Outside of Retirement Account
Once again, I ask 3 questions –
a) Is your investment strategy sill aligned with your goals and timeline?
How have your investments performed over the past year? Are you on track? Do you need to adjust your asset allocation?
For example, my overarching goal is to retire at 55 (a mere 5 years away, yay!) Therefore it is important that I focus on investing outside my retirement account as I can't access my retirement account until I turn 60.
I plan on living off the dividends from my shares portfolio as much as possible during those 5 years and supplementing it with cash.
I usually check how much dividends I received during the year and assess if I still want to automatically reinvest those dividends. There may have been some changes over the year – this is a good opportunity to do some quick admin work to turn on or off dividend reinvest plans (DRPs)
My dividends have increased every year since 2018 so I will continue on this path this year.
b) Is there anything you can do to simplify your investment process?
I find that it is easiest when I automate my investing and saving. After trying different methods, I settled on Pearler's (affiliate link) autoinvest function. Every week, a sum is deducted from my pay and deposited into my autoinvest account. At the end of 4 weeks, it is automatically invested in VAS (a Vanguard ETF that tracks the to 300 companies on the ASX)
It feels so good when I receive an email notification that I've bought some shares, especially when I'm frantic at work. It reminds me why I am still working – to build that future passive income!
c) Do you need to adjust the amount invested?
Money goals evolve and progress – it's a good time to review the amounts allocated to investing outside the retirement fund.
This year, I am reducing slightly the amount I invest until I catch up with replenishing my emergency fund.
Every country has its own laws in regards to retirement accounts – tax implications, when you can access it and under what circumstances etc.
How well do you know the rules about your retirement account? Do you know when and how you can access it? Do you know what the tax advantages are – for your deposit and when you withdraw your money?
Perhaps this is the year to deep dive into your retirement account – it is boring, I grant you that but as you near retirement, it is oh so exciting!
Retirement accounts are simply investment vehicles. It holds your money to be invested in a certain way. Do you know how it is invested? Do you know what fees you are paying? And how it performed relative to similar accounts from other companies? Look at your annual statement to find out.
You can compare your superannuation performance at the ATO website.
In Australia, your employer is mandated to contribute a minimum of 10% into your superannuation. Has your employer fulfilled their obligations? Check your payslips and log into your superannuation account to double check that money has indeed been deposited into your account.
How does your retirement account factor into your retirement strategy? Is it on track? Do you need to adjust your own contributions?
For example, I am confident that my superannuation balance is at a point where it will grow to the amount I need at 60. Therefore, I am not contributing (salary sacrificing) as much as I did a year ago. In the past, I made sure that I added enough to my employer's contribution to max out what is allowed.
Is your income where you want it to be? If not, how can you increase it this year? Can you upskill in your current job or learn new skills for a side hustle? Should you devote some energy into a side hustle at all?
The more income we have, the more we can invest and save (and spend, of course) but at what point is earning extra income costing you time for yourself and family?
This is a good time to reassess your lifestyle and the level of income required to support that lifestyle plus achieve your long term goals.
My full time job in healthcare has been super stressful at times in the past 2 years. Increasing my work hours to get a higher income is not attractive at all. So I look at fun ways to increase income, such as doing surveys for Octopus Group (affiliate link) and monetising this blog which is a creative outlet for me.
I review my donations twice a year (once at the start of the year and again in June, the last month of the financial year).
Once again, I have a sinking fund for this and automate an amount once a week from my pay into this account.
I review if I am happy with this weekly amount and to whom I donated in the past year.
This year, I'd like to automate the giving process as well. I will pick a charity and make automatic monthly donations instead of donating in an ad hoc manner whenever I see the account balance rising. But I will leave a residual amount as I like to respond to any current event such as a bush fire appeal.
Do you have any strategy or process for charitable giving?
The new year brings hope and a chance to reflect on and review the past year, including our finances.
Depending on what has happened the year before, we can draw a line in the sand and move on to the new year. Or we can choose to continue on our current path.
Using my financial checklist with these 7 categories, I have made enormous progress with my money goals.
You don't have to use my exact checklist. The goal is to have a system to review the past year and prepare for the year ahead so that your finances are aligned to your values and goals.
You don't even have to do it all at once. If it is too overwhelming especially if you are at the start of your FIRE journey, just do one category a month or a week.
Doing a New Year review with a financial checklist will motivate and encourage you to keep moving forward. You will supercharge your money goals when you see the progress you've made each year.
Do you use any financial checklist to help you review the past year and prepare for the year ahead?