Welcome to the Late Starter to FI series!
I am a Late Starter – I did not discover FIRE (Financial Independence Retire Early) concept until I was 47. This was way later, I thought than others who seem to have it all together in their 20s and 30s.
Since I started to write about my own journey, I have discovered there are many more Late Starters like me, yay! It is such a relief knowing I am not alone. 
I want to share our stories, our unique perspectives and show that it is absolutely not too late for us.
So in this series, I particularly highlight those of us who start our FI journeys in our 40s, 50s and 60s. And explore questions such as 'where do we start', 'can we still retire early(ish)', 'what are the specific challenges for us late starters'. We look at our past, not to castigate ourselves but so that you can learn from us.
Please join in the conversation in the comments below. I encourage you to share your story if you fit the profile of a late starter. You absolutely don't have to be a blogger or podcaster to share your story. 
Please email me at info@latestarterfire.com or connect with me on Twitter or Facebook or Instagram.
And if you've missed any of the previous stories, you can catch up here – Late Starter to FI series
Disclosure: Please note that I may benefit from purchases made through my affiliate links below, at no cost to you
Many of our featured late starters, particularly those living in the United States use real estate investment as a strategy to reach Financial Independence.
Today, I would like to introduce Scott and Caroline from Costa Rica FIRE who has a twist on the rental real estate strategy.
Take it away, Scott and Caroline …
We met in high school and actually went to the prom together. We have been married for 26 years now and have two daughters, ages 19 and 24.
We run a website, Costa Rica FIRE, and you can also find us on Facebook, Instagram, Twitter and Pinterest. We started Costa Rica FIRE as a landing page for the three vacation rentals we own in Tamarindo, Costa Rica but also to blog about our FIRE journey, of which Costa Rica and real estate play a big part. The blog has turned into a panoply of subjects – travel, reader questions, the crazy cost of college and its impact on FIRE, financial fairness and kids, but still mainly Costa Rica and real estate.
We both grew up in New York City and had pretty average upbringings – do well at school, get a good job, work hard. Neither of our families were entrepreneurial or anything that would point to FIRE, so it was not on our radar till hit 40.
Up to our 30s, we were working hard, juggling young kids, figuring out how to raise a family of 4 in a high cost of living city while still saving for retirement, college and all the other obligations.
Scott worked in non profit in IT. Caroline had worked in HR at a media company, and then started her own company (also in the HR space) at 36. While we had some flexibility because Caroline now worked for herself, it was the early years of building a business so it felt like there was less flexibility. There were a lot of long days and no weekends off to build up the business.
Real estate was the 'light bulb moment' to thinking differently
By age 40, Caroline was burning out in her business and trying to figure out how to scale it in a sustainable way. She had already tried hiring subcontractors and turning some of her consulting services to products, but these didn't solve the problem and weren't options she enjoyed.
We both always had an interest in real estate, and while this wasn't related to either of our day jobs, it occurred to us that rental real estate could be a way out of the burnout – ie provide an additional income stream that was not related to our time working for it.
We had invested in a couple of rental properties in Asheville, North Carolina in our early 30s. At that time, our investment was a way to diversify our portfolio from just our 401k's. We didn't think of doing much more than a couple of properties to replace Social Security since we figured that would disappear by the time we retired.
Fast forward six years, Caroline is aged 40 and wants to make a change and real estate moves up in priority. We're still thinking about FIRE at this point – just about more income to help alleviate the overwork.
FIRE was a little bit on our radar because Caroline is a business and personal finance junkie and a voracious reader. But the real estate was initially meant t supplement our incomes, nor replace it.
We didn't have a windfall to rely on or a grand plan, just one baby step at a time
We didn't have a lot of spare cash. We had been maxing out our retirement accounts, and put most of the rest into a weekend house we owned. We rented in New York City because buying there is crazy expensive! The equity in the weekend house was useful because we used it to buy our first rental in Asheville, using a HELOC for the down payment and closing costs. We did the same for subsequent rentals.
It was 2013 when we started building out our real estate portfolio. We didn't want to buy any more properties in Asheville – prices had really gone up – so we turned our attention to Jacksonville, Florida where we had been introduced to a real estate agent that we liked and trusted. Florida was still hard hit by the 2008-2009 financial crisis, but was starting to recover. We used our HELOC again to buy one property, then refinanced to pay off the HELOC and buy more properties. 
We ended up buying three properties in two years and started to feel like this was something we could build on. We both enjoyed real estate. The rentals were cash flowing enough to pay for the mortgage and expenses, and still show a little bit of a profit (about $100 to $200 a month). 
We set a goal to get 10 properties and then focus on paying them off, so that eventually the properties could replace our day jobs. That still wasn't a FIRE idea – we figured we would have them paid off by 60, and then be set for retirement.
Another key factor to expanding our real estate investments during that time was our ability to get traditional 30 year financing while Scott still had his job. We added several properties with 30 year mortgages in the two years before he left his job. Once you leave the traditional workforce, it can be very difficult to get financing, without going to expensive private options.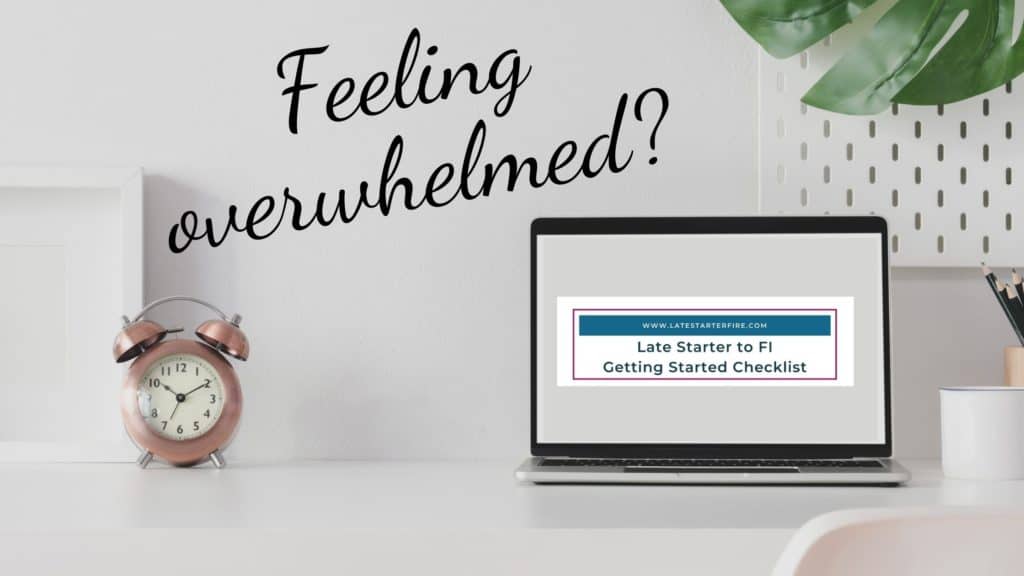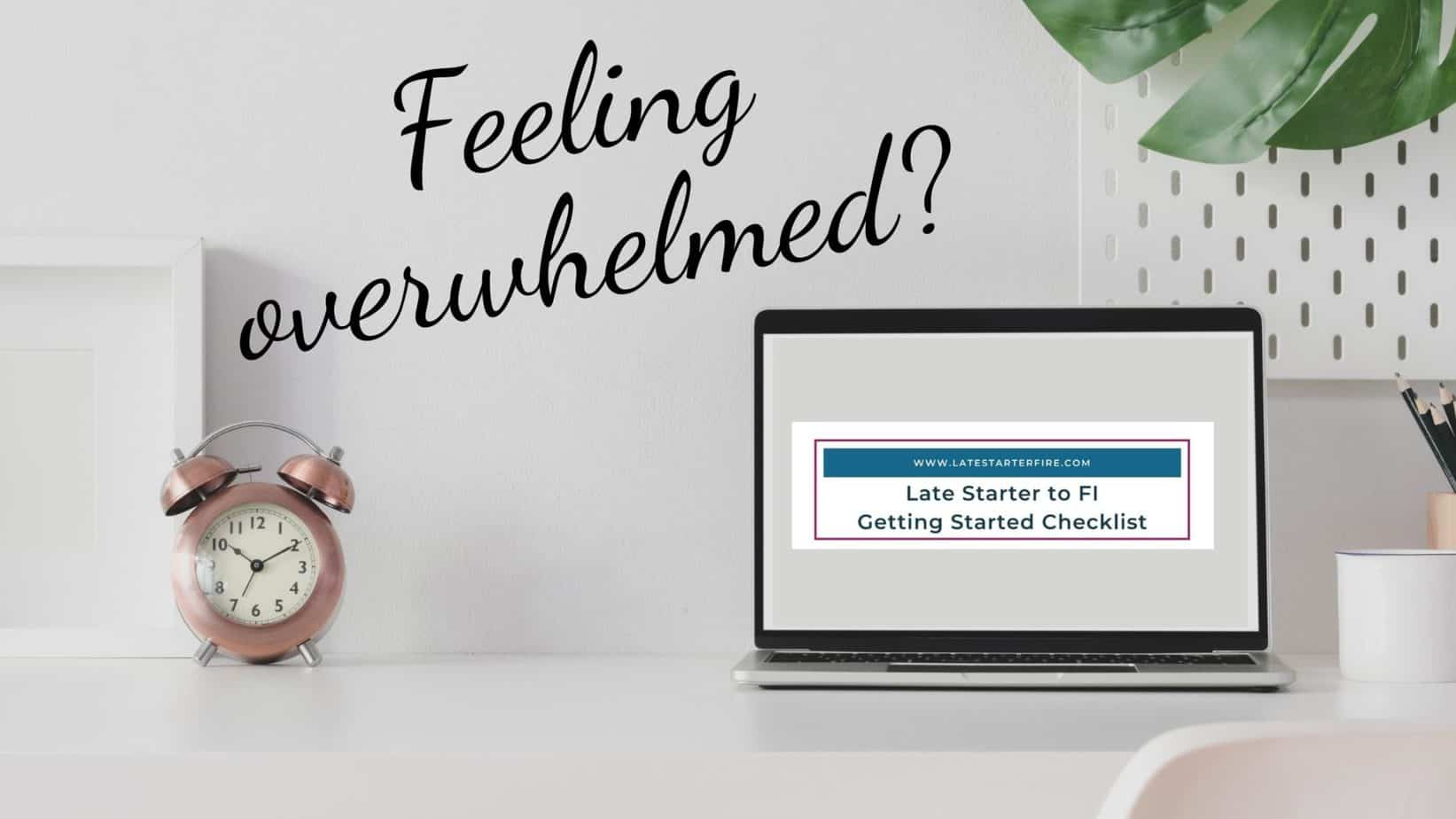 Use this FREE Checklist to start your journey to Financial Independence

Discovering Geo arbitrage accelerated the timetable
As we mentioned earlier, Caroline reads a lot of business blogs. As we were building up our real estate investments in 2013-2016, Caroline started reading about expats retiring abroad and dramatically cutting expenses while maintaining or even improving their standard of living.
Based on the numbers in some of those posts – people were living well for $3000 or less each month – we could already afford that lifestyle with just the real estate we had and some Caroline's consulting.
We still had kids at home, so it wasn't feasible to act on that right away. However, that planted the FIRE seed – ie we didn't necessarily have to wait till traditional retirement age to stop working full time. 
With a combination of things – real estate, cutting our expenses through geo arbitrage, and continuing to work at what we love (we enjoy scouting for real estate, and Caroline enjoys consulting) – we could retire earlier. Just knowing we could retire earlier took a lot of the pressure off, even though we were still in a High Cost of Living city and still both working hard.
Costa Rica is our first choice international location
Costa Rica had been on our radar for years, just because Caroline had a friend who moved there in her 20s and never left. But of course why we picked Costa Rica wasn't just because of that! We love the beach, and Costa Rica has a LOT of beautiful beaches.
Costa Rica has easy proximity to the US, and daily direct flight to NYC, so we could easily get back to see our big extended family. They also have universal healthcare, a strong focus on environmental sustainability, one of the few Blue Zones in the world (above average for people over age 100), a 90+% literacy rate, and warm and friendly people … there were a lot of reasons that won us over to Costa Rica.
In the first year after our visit to Costa Rica, we bought three vacation rental properties, so that we could have one to live in and two to live off of. It was true diversification for us, in that if all we had was our Costa Rica portfolio, we could support ourselves. We had to finance these creatively as bank loans are not available to foreigners. In our case, we used a cash-out refinance for one property and a self directed solo 401k for the other two.
That was our first stage of FIRE.
While not our ideal FRIE lifestyle, knowing that we had already achieved FIRE if we wanted to live full time in Costa Rica gave us the courage to build on this path.
Our true goal is to also be able to maintain a lifestyle where we have the freedom to travel, the ability to continue to support our kids as needed, and continue to maintain a foothold in NYC.
Scott left his day job in 2017 and now works on our Costa Rica FIRE site and Caroline's original business. Once our youngest entered college last year, we moved from NYC to one of our rentals in Florida. This is a less extreme version of fee arbitrage in that we're still stateside. However, that move cut about 30% off our household budget.
For most of the years we lived in NYC, we rented in Manhattan. But about five years ago, we bought a small apartment in the Bronx, NY. It cut our expenses compared to renting, and as small and relatively inexpensive apartment, it would be perfect for keeping as a long term foothold in New York.
We could always sell it if we wanted to scale back on consulting (and fully embrace the RE part of FIRE). But since we both love working, we focused on building up our consulting income, real estate portfolio, and our paper investments (those original retirement accounts are sill intact!) 
Our approach to FIRE is to use multiple strategies to get and stay there. Our ultimate goal is to split our time among Florida, New York, Costa Rica and extended slow travel.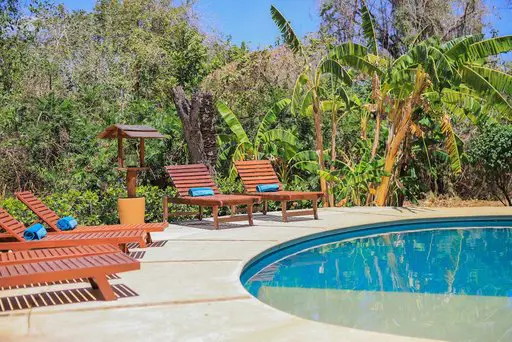 Going forward we'll work the plan and adjust as needed
The COVID 19 pandemic is stress testing our FIRE plan! Costa Rica borders are closed, though reopening soon to Canada and Europe at least, so there will be tourists again for our vacation rentals. 
The stock market volatility has made us even more committed to not tapping our paper portfolio for an=y of our current expenses.The uncertain economy makes our US rental portfolio less reliable, though so far it's performing well. 
That makes our consulting income even more important – we have flexibility and still feel we've hit FI, but we certainly don't want to RE (ie stop working entirely)
Even though we are actively working on our consulting and websites, we still feel retired because of the flexibility we have. Most days start with an hour long walk on the beach. If we weren't sheltering in place, we would be travelling because our work is virtual and on our own schedule.
This is a lifestyle we thought we'd have in our 60s, maybe 50s but we are 49 and had left the full time grind by 46, so got there earlier than either of us expected.
Hopefully what's next for us is getting back into Costa Rica and more travel. We were thinking about making another international real estate investment but that is on hold. We're mainly focused on our consulting and websites because that's what makes the most sense right now. But the best thing about FIRE is that you have flexibility to change course as needed. We can't wait for the world to open back up.
In the meantime, the best way to get in touch with us is on our site, Costa Rica FIRE. We get asked a lot about how we got to FIRE, so we put together a series of free videos on the strategies that we used. It's called Making FIRE Possible. We hope it helps make FIRE possible for other people as well.
Thank you, Scott and Caroline for sharing your story about using geoarbitrage plus rental real estate strategy to reach Financial Independence.
What an impressive real estate portfolio you've built up in a relatively short time! Hopefully, borders will reopen soon and you can visit Costa Rica again – such beautiful sunsets. And that your vacation rentals there will be full with tourists once again.
Have you thought of geo arbitrage as a strategy to reach FI? Where would you move to?