Welcome to the Late Starter to FI series!
I am a Late Starter – I did not discover FIRE (Financial Independence Retire Early) concept until I was 47. This was way later, I thought than others who seem to have it all together in their 20s and 30s.
Since I started to write about my own journey, I have discovered there are many more Late Starters like me, yay! It is such a relief knowing I am not alone. 
I want to share our stories, our unique perspectives and show that it is absolutely not too late for us.
So in this series, I particularly highlight those of us who start our FI journeys in our 40s, 50s and 60s. And explore questions such as 'where do we start', 'can we still retire early(ish)', 'what are the specific challenges for us late starters'. We look at our past, not to castigate ourselves but so that you can learn from us.
Check out other stories in this series:
Please join in the conversation in the comments below. I encourage you to share your story if you too are a late starter. You absolutely don't have to be a blogger or podcaster to share your story. Please email me at info@latestarterfire.com or connect with me on Twitter, Facebook or Instagram.
Without further ado, let's meet Ed from Educator FI. He writes about being educators on the path to Financial Independence and has many lessons to share with us. He also brings us stories of other educators on the road to FIOR (Financial Independence Optional Retirement) in his interview series. 
You can also connect with Ed via Facebook and Twitter
Disclosure: Please note that I may benefit from purchases made through my affiliate links below, at no cost to you
I'm Ed, from Educator FI and I'm thrilled to be writing for Laterstarterfire today!
My wife and I are both career public educators in the United States. We started out as two broke teachers about 20 years ago and are now in our mid 40s. After ignoring our finances for way too long, we've started paying attention and are now on the path to financial independence.
How did we end up here? Well, I'll take you along on our journey to being financial late starters.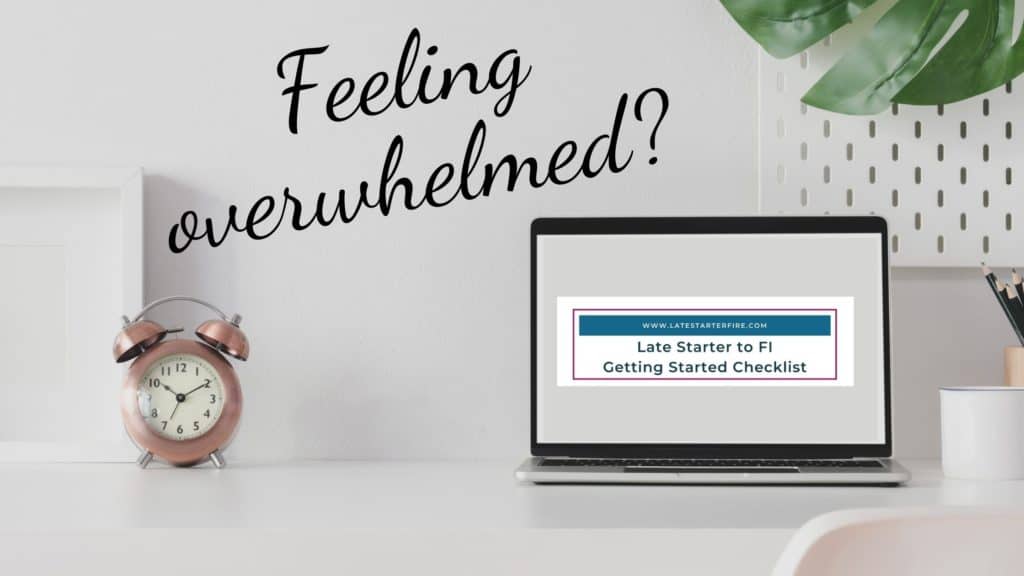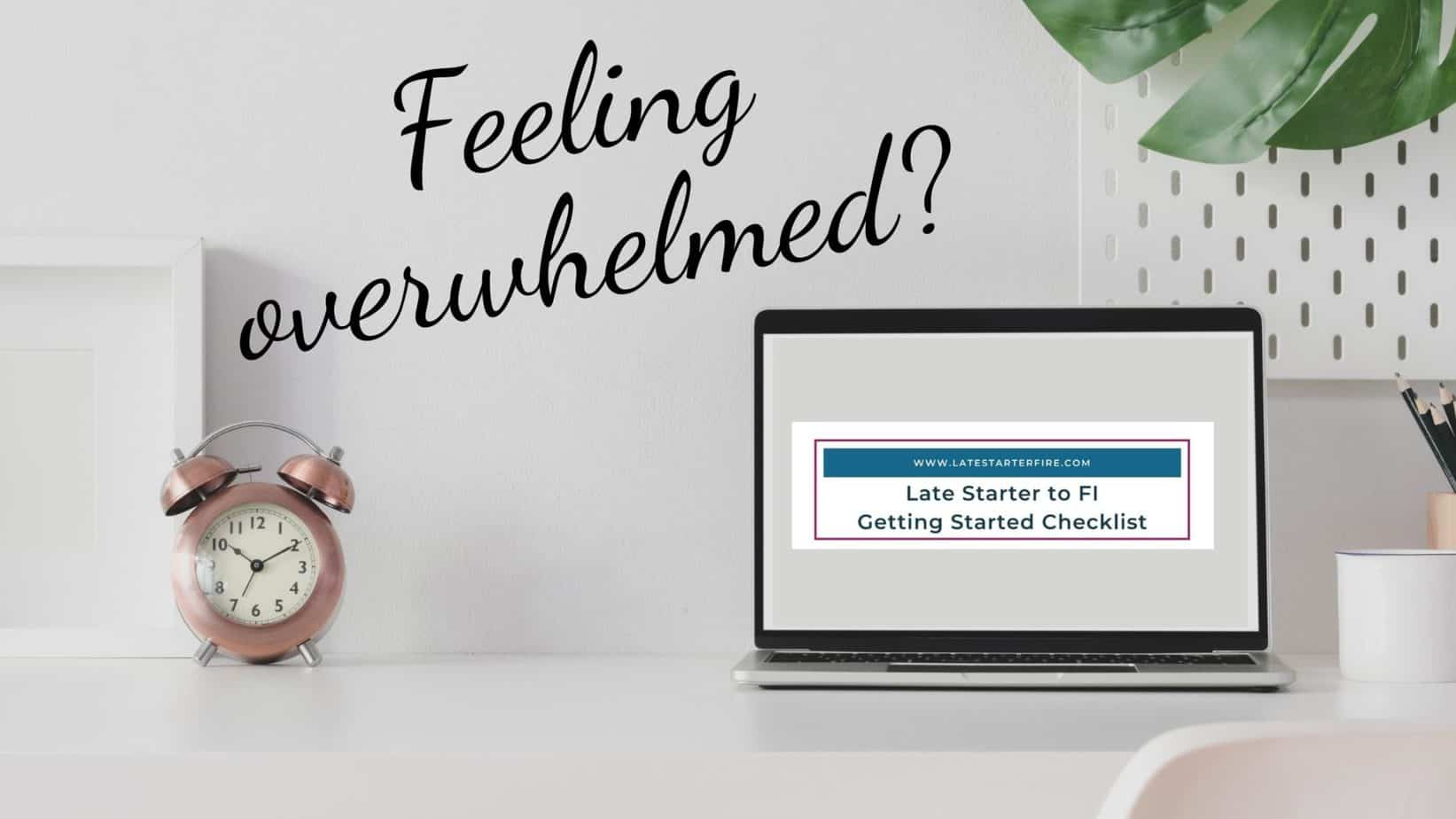 Use this FREE Checklist to start your journey to Financial Independence

My wife and I both came from backgrounds that were pretty tight financially. I was raised by a single mom (who is amazing!) and my wife is the child of immigrants. We were both always cared for, but didn't have much beyond the basic needs.
We met and got together in college where we were attending on a mix of scholarships and student loans. Once we left undergrad and started earning a little bit in our first jobs, we enjoyed having money to spend. In fact, we spent more than we earned.
To become teachers, we both had to go back to graduate school. We borrowed to do it – stacking debt on debt, and deferring our existing student loans during that period.
Consequently, we really did start out as two dead broke teachers with about $130,000 in debt.
While we were reckless initially (and I'm always impressed by people in their early 20s who AREN'T) we didn't stay in that mode for long. Our childhoods left us with money issues, but we are also both ultimately responsible people. So, we did two things right even though we weren't thinking long term about our finances:
My childhood left me with a deep insecurity about money. I'm scared not to have it. So, I naturally hated debt. My wife was raised by very financially responsible parents and had been taught to loathe debt as well.
So, after our initial early years of being stupid, we got serious about paying down our debt. We put ourselves on a cash budget, stopped buying things we couldn't afford, and put every extra cent to debt.
We took advantage of some of student loan forgiveness options to partially pay off our debt. Then we put extra money towards our student loans once the consumer debt was gone.
We were debt free by our mid 20s and have only carried mortgages or strategic zero interest loans since then. Getting rid of debt is one of the two things we did right!
My childhood of poverty left me with a fear-based approach to money. Money was anxiety and limitations. I had a deep desire to never have to think about it. So, I always made sure I made as much as I could.
Education isn't a great profession for earning huge amounts of money, but there are plenty of ways to earn extra.
We worked every angle we could to raise our base salaries – increasing our education, building up experience, and taking on extra duty jobs for pay. After teaching for ten years, I went into administration and grew my salary. Every year we earned $10-20k more than our base.
We grew our income – which is an important part of our late start story. We now make almost 3x as much as when we started.
What we got (really) wrong
We made more money and never took on debt again. Great, we should be set, right?
Nope. Not if you spend every penny you make.
Our lifestyle inflated in a big way. We bought a bigger house and spent more and more on travel. We weren't chartering private jets, but we weren't thoughtful about our expenses.
I had achieved my goal – I made enough money that I could buy what I wanted without thinking about it.
We had been working in our profession for almost 15 years, and had almost nothing saved. No debt AND no actual net worth.
I still remember exactly where I was when I had my financial awakening.
We had just bought a vacation house. Yes, a vacation house. Talk about lifestyle inflation!
Sure, it was in partnership with another family. It probably actually saved us money compared to the stupid travel we were doing. But still – a vacation house!
I was sitting in my office, and got a text from a friend about buying another vacation property. My wife also sent a text about the same thing. I suddenly realised I'd be working forever if we just kept spending.
We love our jobs – education is important and teaching kids is rewarding. So working for a while didn't sound all bad.But, no one should assume they will always love their job.
We'd also talked often about the old bitter teachers that shouldn't be working in schools anymore but are hanging on because they have to. That could be us.
Something had to change.
Immediately after the financial epiphany, I checked on Amazon for financial books. I stumbled on The Automatic Millionaire by David Bach and another book called How to Retire Early by Robert and Robin Charlton. 
They were great starts that opened up a new world. (I now recommend JL Collins' Simple Path to Wealth as the starter book) That first year, I went down the rabbit hole and began consuming everything related to financial independence – books, blogs, podcasts.
My wife was a willing but not enthusiastic participant as we started to discuss what was possible and I went on a spreadsheet building binge.
After several months, we sat down and had a long goal setting conversation. From that point forward it's been a joint project and she's pushing as hard as I am.
That first year, we projected 12 years to financial independence. We got to work setting up automatic investments in our retirement accounts and began reversing 15 years of lifestyle inflation. 
As we've learned more, set more aggressive savings goals, and taken specific actions we've cut that projection down every year.
Where we are now and where we are going
Last year, we took a big step. After reviewing the pros and cons, we downsized our beautiful house. We're happier now, cashed out some equity, and cut our monthly housing costs in half. We're renting a place for now while we consider our long term options. We'll eventually buy again, but it will be a smaller place consistent with our FI plan.
It was a dramatic step that I wouldn't have predicted when we started. We are running the vacation home that started it all as a short term rental. It's not an investment, but it's not dragging us down anymore.
In 2019, we passed seven figures in net worth. We just reviewed our goals from the previous year and set our goals for this year. We have set a FI goal of 2022 that looks very achievable.
When we hit that goal, we'll have gone from clueless at 40 to financially independent before 50.
We still love the work we do. We may not FIRE, but we've embraced FIOR (Financial Independence Optional Retirement). Financial Independence will give us the ability to work if we choose, not because we have to.
That's changed my relationship with money. I always approached it with a sense of insecurity and fear of never having enough. Now, I know what enough is, and have a plan to get there. It's a great feeling. I'm happier at work, more enthusiastic about risk taking, and our relationship is stronger than ever.
The most significant challenge for late starters is we've lost the big benefits of time. If we could go back and invest in our 20s, it would change everything. If we invent a time machine that would allow that … well I guess we'd be rich anyway and wouldn't need to go back.
Instead, we just have to accept that time isn't our friend.
On the positive side, a late starter will generally have the benefit of a higher income. Income, on average, grows over your lifetime. The 40s and 50s are prime earning years for most people. That's a good thing. Unfortunately your lifestyle may have grown as well.
Once you wake up and get serious about your financial health though, you can create a pretty substantial gap quickly. Instead of scraping out a few dollars in your 20s, you can invest a lot more. You have to if you want to make progress. Or, you can accept a longer time horizon – both are great options depending on your circumstances and goals.
I also believe we are much clearer about our life goals now than we would have been when young. We've experienced everything that spending wildly has to offer. We know what full commitment to our profession feels like. We've had the big house of our dreams.
Now we can design our life to give us exactly what we find fulfilling – not just what we think we might want. As one example, our late start has allowed us to live in a smaller cheaper home with no loss of happiness.
Our FI target is exactly as much as we need to live a life of purpose with travel and giving.
It would have been easier to start earlier, but we might have reached the wrong targets. Now, thanks to our late start we will be financially independent and living exactly the life we want.
Thank you, Ed for sharing your story of 2 dead broke teachers eventually embracing FIOR and voila, you will achieve financial independence in 2022. And teaching us the importance of not succumbing to lifestyle inflation. The lesson I learnt here is that even without debt, we may end up with not much net worth if we spend it all. 
I admire your decision to sell your beautiful dream home and rent somewhere much smaller. You discover you are happier with less. This is a huge lesson for me – your willingness to deviate from a known script and explore a new path. Sometimes I feel I cling too much to home ownership and love my home to bits. It would require a major mindset change for me to rent again.
I am excited we get to follow your journey from now on. I can't wait to see all your options as you approach Financial Independence in 2022.  
Wow, it's been almost a year since I wrote this and so much has changed – both personally, and in the world. The good news is all the financial things I mentioned still remain true. In fact, that's the biggest update here: all our financial moves paid off even more quickly than expected.
When we first started, we had a general thought of financial independence by 2030. After a few years, we refined the goal to the 2022 I mentioned above. Amazingly, we beat that target by 18 months. It really highlights how much our later career income helped us course correct quickly.
The real game changer was getting our housing under control. After our initial downsizing, we continued to make moves and eventually moved back into our starter home that we'd been renting out. We used the money from selling our dream home to pay off the rest of our mortgage and had suddenly freed up even more money to invest.
This meant that in 2020, we were able to continue investing large amounts when the market dropped – even while we were impacted by furlough. Between the (much) lower expenses we have now and the unexpected market run, we hit our FI target in December 2020!
It's strange to have made so much financial progress during a pandemic that hurt so many others. The financial shifts we'd made helped, but we sill constantly acknowledge the good fortune we've had along the way.
It's an amazing feeling to have come from broke and clueless to financially independent by 50, all while working in a career we were passionate about. The security, freedom, and possibilities are incredible. That sense of possibility caused me to make a surprising decision.
I love the work I do, but after more than 10 years as an education administrator, I'd become fatigued by managing so many people. I've shocked even myself by making the decision to walk away from my job at the end of this school year. (The school year ends in June in the US)
My plan is to take a little time to rest and recover from what has been a brutal run trying to keep students, staff, and community safe during a pandemic. Then, I'll decide how I want to get back into education.
I'm not sure what I'll do next, but can't quite describe the feeling of being able to choose anything just based on what interests me. That's what financial independence allows.
It's totally worth it, whenever you start!
Latestarterfire : Congratulations, Ed! What an exciting update 🙂 2020 was certainly an unusual year – so happy that all your financial moves worked to your favour and enabled you to reach financial independence! Wishing you all the best in your rest and rejuvenation efforts – and looking forward to hearing more of what you'll decide to do after that.
What lessons did you learn from Ed's story? Do you struggle with lifestyle inflation?