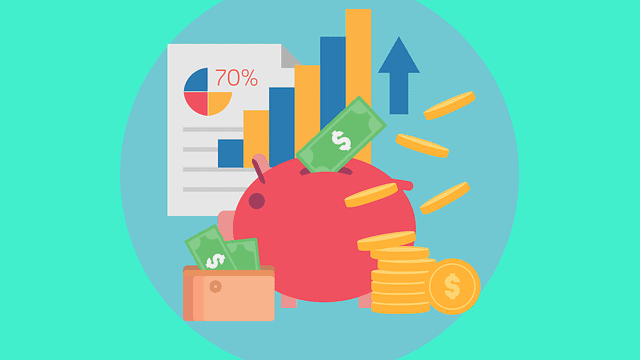 I don't have a budget.
Have never budgeted.
Before or after I discovered FIRE (Financial Independence Retire Early) concepts.
I almost feel guilty writing this as having a budget is one of the 'pillars' of personal finance but … they just don't work for me. So I'll tell you about my system instead.
Please note I am not telling you not to have a budget. I'm explaining why I don't have one. And what I do instead.
If you are struggling to stick to a budget, perhaps my way of managing my money may appeal to you. Or maybe not. Personal finance is personal after all.
What is a budget?
I like this definition from the Cambridge dictionary:
A budget is "a plan to show how much money a person or organization will earn and how much they will need or be able to spend"
That doesn't sound too bad. I agree with having a plan for my income. And knowing how much I have to spend.
So, why don't I have a budget then?
Unfortunately, the word 'budget' brings up many negative feelings in me, much like the word 'frugal'.  Although I admit I am better friends with frugal now. So perhaps it's a matter of changing my mindset?
To me, budget screams deprivation and restrictions. And that is not attractive to me at all. I want to be free to spend my money as I see fit, thank you very much. I don't want to be limited by some numbers on a spreadsheet (even though it would be ME putting those figures there) Can you hear the rebel in me? Sigh!
I asked a friend if he had a budget. He looked at me in horror – you mean "budget" (waving his hands in air quotes) – as in if you have $2 left in your food budget for the last week of the month, you'd eat nothing that week?
And there you have it! His reply reflects my own view of budgeting. Frankly, budgeting invokes scarcity – $2 left means I eat 2 minute noodles that week? Knowing me though, I would just take from another category and definitely still eat, no worries about that!
And if I end up stealing from Peter to pay Paul (or is it the other way round?), what is the point of diligently plugging in numbers in various categories in the first place? What is the point if I know myself well enough to know that I will not abide by those numbers?
Budgeting implies I must have strong willpower – in order to stick to the budget. I can tell you I have zero willpower. I like ice cream but refuse to have any in the house so I can't be tempted. Then I will crave it badly, give in one night and buy two boxes. Now that my craving is satisfied, that will be the end of it. Until the next time, of course.
My money rules
Before I tell you how I manage to survive without a budget, I must tell you that I live by three rules, two of which were taught to me by my mother, from a young age. The third, I learnt as I began my FI journey.
Rule #1 – Always spend less than you earn
My mother trained as a nurse in the UK. Before leaving for the UK, she worked for a few years as a teacher in order to save up money to study overseas. Once she got to the UK, she was paid a small wage as a student nurse and lived in the nurses quarters provided.
These accommodation are closed during the term holidays so student nurses have to look for alternative lodgings. Local students could return to their homes but financially poor overseas students could not.
So my mother and her friend would save up their meagre wages and take bus trips all over Europe during the holidays. Up until dementia made her wary of travelling, she loved bus tours.
Her mantra has always been – it's not how much you earn, it's how much you spend; always spend less than you earn. Those student nurse wages were not much but she knew she had to save some of it to provide for the holidays or she would be homeless during the holidays.
Abiding by this one rule is my saving grace – I would be in a far worse situation now if I had not followed this rule all my life.
Yes, I definitely succumbed to lifestyle inflation as my income grew. And I had a shopping problem in my younger days. Plus I did not invest.
But I never spent more than I earned.
I can never tell you what my gross income is but I can always tell you what my net income is ie how much money lands in my bank account each week. So I always know the maximum I have to spend and I never go over that limit.
Rule #2 – Never borrow for depreciating assets, always buy what you can afford
My mother hates debt – the only debt she is okay with is to borrow money to purchase a house. Nothing else.
Her mantra has always been – buy what you can afford, never borrow money to buy what you cannot afford. Always pay in full, up front. She doesn't like credit cards or store credit.
So I grow up to be debt averse (and risk averse too but that is another story). I never borrowed money to buy a car, furniture, appliances, holiday. I always paid off my credit cards each month. The few times when I didn't wasn't because I didn't have the money. It was because I was disorganised and forgot to pay on time. Duh! I would then berate myself for paying interest needlessly.
Rule #3 – Track your expenses
I learned this rule just before I found the FIRE community and have tracked expenses for more than 2 years now. So I have data on my expenses and know what I spend my money on. Therefore I also know where I can improve upon.
But more importantly, as I manually enter my purchases later into a phone app, I think about what it is I purchased or spent on – and am reminded of why I did it in the first place. I bought that take away coffee because I was so stressed out at work. Is it a one off? Yes – I let it go. But if it's every day? OK, that doesn't align with my goal of reducing living expenses so why am I so stressed out in the afternoon at work?
In other words, tracking my expenses or the act of entering each transaction makes me mindful of what I spend my money on and why I spent it in the first place.
And yes, manual entering of expenses is a major pain in the backside but that is an incentive to NOT have that many transactions in the first place.
I do have a plan for my money
Even though I don't have a formal budget as such, I do have a plan for my money.
I start by identifying my priorities or goals.
Right now, my over arching goal is to retire fully at 55. This means that I need savings to bridge the 5 year gap (between 55 and 60) until I can access my superannuation (retirement account) at 60. My superannuation also needs funding to ensure I can ride into the sunset comfortably. I am not into long arduous walks.
Therefore my income is put to work in three broad areas: Retirement savings, Bridging the gap and Living expenses.
I then look at my timeline (umm … 6 years only, gulp) and work out how much I need to direct to retirement savings and bridging the gap but still leave enough for day to day expenses. Because I track my expenses, I am not plucking random numbers out of the air.
I 'pay myself first' and utilise a slew of sinking funds to save for various categories. All deductions from my weekly wage (ie net income) into the various categories (or sinking funds) are done automatically. I review the amounts deducted every 3-6 months as needed.
This plan is made bearing in mind RULES #1 and #2 – always spend less than I earn and never borrow for what I cannot afford to buy.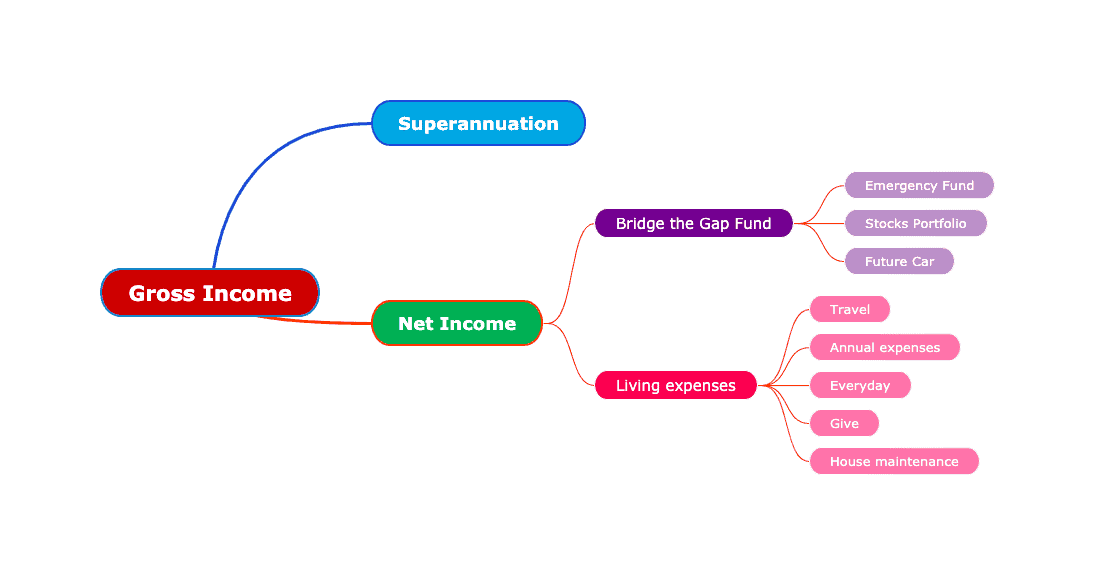 (1) Retirement savings
My employer contributes 9.5% of my gross income to my superannuation. And because I am trying to play catch up, I salary sacrifice as much as I can. That is, I contribute a part of my gross wage to ensure that I contribute the maximum allowed – $25 000 annually (including my employer contribution).
So what I salary sacrifice goes directly into my superannuation – I won't see that money until I turn 60.
As stated earlier, I never care about gross income, only what is deposited into my bank account weekly. So I don't miss this money at all. It is gone, goodbye – off to do its job in super so I can retire comfortably one day.
And I learn to live on what is left – which is my net income.
What is left has to be sufficient for Bridging The Gap Fund and Living Expenses.
(2) Bridging The Gap Fund
To recap, I have to bridge the 5 year gap between when I retire at 55 and when I can access my superannuation at 60. Therefore this fund is invested outside of superannuation.
And is an absolute priority. Without this fund to draw on, I will not be able to retire at 55. So every spare cent counts.
This category is further divided into two buckets or sub categories – cash and stocks.
(a) Cash
My Emergency Fund is fully funded and held in a high interest savings account.  I continue to deposit weekly into this account because in order to receive the bonus interest, the account balance must increase by $300 every month.
Another reason I don't mind saving this cash is that I aim to have 2 to 3 years of expenses in cash by the time I retire – to counter sequence of risks. Just in case the stock market drops (as is happening now) at the time I retire, I will have a cash buffer to rely on and not have to crystallise my losses.
I recently opened another account – to save for a future car. Currently, I drive a work car so when I retire, I will need to buy a vehicle. As this is an anticipated need, I don't want to draw from my Emergency Fund.
(b) Stock Portfolio
Every other available cent is directed here. I save up to $5000 and invest it in one of my LICs or ETFs.
(3) Living expenses
What is left after deductions for Bridging the Gap accounts is used for my living expenses. I further divide this sum into more accounts or sinking funds -specifically travel, annual expenses, charitable giving, everyday expenses and my latest – a fund for house maintenance. Once again, all are automatically deducted from my weekly income.
I would like to do a few things with the house before I fully retire, while I still have incoming wages. Instead of drawing on the Emergency Fund when issues arise, I can draw on the House Maintenance fund instead. It is an anticipated need so therefore I should save for it.
As I am not travelling this year, my travel fund will accumulate. I don't have a maximum here. My rule is never to deplete it completely. I bundle this with 'living expenses' as I am allocating money here to be spent eventually. While the Emergency Fund gives me peace of mind should something disastrous happens, my travel fund is my happiness and freedom fund. I need to know I have money set aside to enjoy my travels without guilt.
I set up my "Give" fund last year to make it easier and more systematic to donate to charities. 
The annual expenses account handles all … annual expenses such as various insurances, local council rates, professional association fees etc.
My everyday account is my last priority and deals with groceries, utility bills, gardening, hobbies etc – the day to day expenses. My goal is to reduce this as much as I can so I can redistribute it to Bridging the Gap accounts. I am currently focusing on reducing my water and gas bills. 
Final thoughts
And there you have it – my money plan instead of a budget.
In summary, I adhere to 3 rules – spend less than I earn; don't borrow to buy what I cannot afford; and track my expenses.
In addition, I automate deductions from my income directly to retirement savings and bridging the gap accounts first.
What is left over is further distributed to various sinking funds to pay for day to day living expenses. Because I am used to spending less than what I have, I am essentially tricking myself into spending only what is in my living expenses accounts.
Plus I make sure I save up for big expenses such as travel, house maintenance and a future car purchase.
This works much better for me than a budget. I don't feel constrained as I can see my money in various accounts and draw on them as the need arises.
It is a balancing act – making sure I save enough for retirement and bridging the gap whilst having enough to live on every day without feeling deprived.
How do you budget? What is your system?