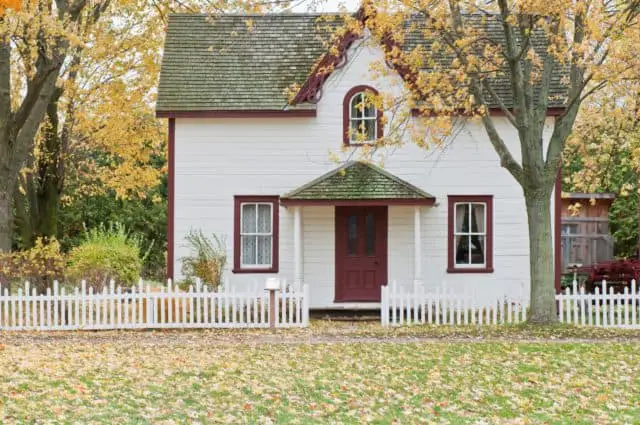 The path to Financial Independence (FI) and hopefully Retire Earlyish (RE) is very simple. But not necessarily easy. I must reduce my expenses, increase my income and invest the difference.
Any chance I can reduce a recurring expense will serve me well on this path. My final target of 25x living expenses will be reduced. I will have more money to invest and it will take less time to achieve the smaller target. Win, win, win!
One of my largest recurring expense is my home and contents insurance. 
How does it work? The insurance company charges me an annual fee (a premium). In return, they will rebuild or repair my house and replace its contents if certain events (that we both agree to before hand – 'insured events') occur. In other words, having the insurance protects me from loss and/or damage to my property. 
So if nothing unfortunate happens that year (which is what I want), the insurance company keeps my money. It irks me that I am basically paying for something that I pray I will not need. 
On the other hand, I can rest assured that should something terrible occur, I will be able to rebuild or repair my house and replace its contents without significant financial loss.
Do you need home and contents insurance?
I own my home. I consider it an essential expense as I cannot afford to replace my home and its contents should something catastrophic occur. My emergency fund can cover smaller repair costs but not if I have to rebuild the house from scratch because say, a fire destroyed it. 
There are two parts of this insurance – the building part (home) and the contents part. It is a combined policy. But you can take out just the home part or the contents part. You don't need both if for example, you are an investment homeowner (just the home part may suffice) or a renter (just the contents part may suffice).
With most policies, the building part insures anything to do with the actual building and items fixed to it eg awnings, verandahs, air conditioners, solar panels etc. Carpets, curtains, blinds are not covered by building insurance – they are covered in the contents insurance.
Most companies give you a discount for having a combined policy. And you may receive a discount if you already have another insurance product with them eg your car insurance.
How often do you review your home and contents insurance?
If you are like me, not very often. 
I am ashamed to say that I did not review it until last year, some 16 years after I bought my house. 
On an intelligent level, I know that I should review it annually and shop around for a better deal. But every time the renewal notice arrives, I never find the time to do so. It always goes into the too hard basket. Who has time to read lengthy and boring Product Disclosure Statements (PDS)?
So every year, I just pay it and vow to review it the next year.
Until last October, when I looked at the sum insured for both the building and contents – and nearly had a heart attack. The sum insured is the maximum amount that I will be paid should an insured event occur. 
In order to 'protect' me from inflation and rising building costs, the insurance company just whacks a 5% increase every year on the sum insured for both the building and contents. The premium rises every year by around 20%.
You can imagine the compounding effect of this 5% increase per year. I was sure that the sum insured did not reflect the rebuilding cost of my house or the value of the contents in my house.
So I rang the insurance company and reduced the insured sum of both the building part and the contents part and increased the 'excess' I have to pay, should I make a claim. The 'excess' is a set fee that I have to contribute towards any claim for payment. This saved me $187 last year.
I did not have time to look at other companies and resolved to do it the following year. Which has now arrived.
Here's what I reviewed.
What events are you covered for?
You must read the Product Disclosure Statement (sorry, there is no other way) and know what you are covered for and any exclusions ie what you are not covered for. 
Do you need everything that you are covered for? For example, my policy covers for domestic pets' veterinary costs up to $1000 if they are injured in an insured event. I don't have any pets. And I was not aware of this cover.
Be aware of any exclusions ie what you are not covered for. An example is storm damage in my policy. I am not covered for damage due to a storm if I left my window open and water damaged my contents. I am covered if the wind ripped off my awnings but only if the awnings were professionally installed less than 10 years ago. 
Can you get extra cover for items or events not covered in the general policy? Do you have artwork, jewellery worth more than $1000? You can pay extra to insure specific items. For example, my policy will pay up to $1000 for jewellery. Therefore if you have more than $1000 worth of jewellery at home, you may need extra insurance. 
Does your policy cover for temporary accommodation while your house is unliveable while being repaired or rebuilt? Most policies will fund 52 weeks of temporary accommodation. How much they cover varies – some pay up to 10% of sum insured, some up to a set weekly amount.
Once again, the devil is in the detail. You need to work out what is important to you.
The vast majority of policies provide sum insured cover ie they insure a set amount. This is the maximum amount of money they will pay you.
In Australia, we the consumers are responsible for estimating the sum insured ie that our sum insured is adequate to protect us.
The insurance companies are very concerned that you may be under insured, not so much if you are over insured. 
Some policies pay 10% more than your sum insured if it turns out you are under insured. Other policies offer you an optional extra insurance for this purpose (whereby they will pay an extra 25% on top of your sum insured). 
Some policies offer total replacement cover (not very common). They cover all the costs required to rebuild your house to the standard it was prior to the insured event. So you don't have to worry if you are under insured. 
Bad luck if you are over insured. They only pay the cost of rebuilding or repairing your building or replacing your contents. They do not pay you the difference if the final amount is below your sum insured. And they do not refund premiums.
Therefore it is in your best interest to review the sum insured regularly especially if you have added to your building (installed solar panels, in my case) or renovated. For the contents part, did you buy more items, receive expensive gifts perhaps?  Consider curtains or blinds, carpets, artwork, not just furniture and appliances.  
Or have you decluttered and now don't need as much insured? Or like me, perhaps you decide you will not replace everything. 
How do you calculate the sum insured?
Do not base your estimate on what you paid for your property – that includes land and building. You are insuring your building only – specifically the cost of rebuilding it from scratch.
Each company has their own online calculator to help you calculate the cost of rebuilding. Some are more detailed than others. All the calculators are similar to this one – based on data from CoreLogic, a provider of property information and analytics.
Depending on how detailed the questions are and if I choose standard or above average fixtures and fittings, my estimate range from $495 000 to $800 000+. This also include demolition costs, debris removal, architect / council fees and GST.
Similarly, online calculators such as this one are available to help you calculate the value of your household contents. My results range from $51 000 to $131 000 depending on whether I select quality or standard brands.
All of these online calculators provide an estimate only and use averages in their calculations. I have a mixture of branded and non branded items in my house but I can only select one or the other in the calculator. If you have a detailed list of what it would cost to replace your stuff at today's prices, that would be more accurate. 
The premium is the fee the insurance companies charge you to insure you against something, in this case, damage to or loss of your home and contents.
Insurance companies use their own algorithms to work out how much your premium should be – basically they consider the probability or the likelihood of paying you a claim. 
So for example, where you live is an important factor – what the crime rate is in your suburb, if your house is surrounded by bushland (increased chances of bushfire?), cost of rebuilding may be higher or lower depending on a city or rural location etc. 
The more optional insured events you select, the higher your insured sum, your history of claims, your age – all affect your premium.
An 'excess' is the fee you pay when you make a claim. For example, if your excess is $500, that is how much you have to pay towards your claim settlement. If it costs $2000 to repair your roof, you must contribute $500 towards it.
Generally, the higher your excess (therefore your contribution towards any claims), the lower your premiums. How high you set your excess depends on how much you can afford in times of tragedy or crisis. Another reason why an emergency fund is really important.
The fun begins. Or not.
I use two comparative sites to see what the options are. And obtain quotes from a few companies using the same variables ie sum insured for building $600 000, contents $75 000 and excess of $500 each. I mainly chose well known companies and one budget company.
The main players – were very similar – only about $50 difference between them.
But the policies are not identical. This is what makes it difficult to compare them. We are not comparing apples with apples. For example, each policy has a different maximum payout for loss of cash, credit cards, gift cards etc – one has a $500 maximum while another would pay a maximum of $200. 
At the end of the day, you have to weigh out which insured events are important to you, which exclusions you can live with. And which ones you can fund from your savings. 
Or perhaps the possibility of an event is very remote. For example, flood. Which is defined as the covering of otherwise dry ground from water that escaped from natural confines of a river, creek, lake or natural body of water, canal, dam, reservoir. 
From this definition, I decide that I do not need flood cover but that I need flash flooding cover which is classified under storm cover.
In the end, I chose Budget Direct whose general policy did not cover flood (but which you could take out as an optional extra). 
I did not choose any optional extra insurance as my emergency fund is adequate to cover these events. 
And I can afford to increase my excess to $500. 
My renewal notice was $1477.28 – building sum insured = $636 000; contents sum insured = $106 000; excess of $300
By choosing a lower sum insured (building $600 000 and contents $75 000) , higher excess ($500), no flood cover and changing my insurance provider, I paid $877. 
I saved $600.
In summary, I review several Product Disclosure Statements, think about what is important to me to insure against, calculate/estimate costs of rebuilding my house and replacing my home contents, decide on the sum insured amount and if I can afford a higher excess.  
It took me a whole weekend.
Hopefully, now that I have done this exercise, it will be easier next year. I will not fall into the trap of automatically renewing my insurance.
As a side effect, I will continue to declutter. There are many benefits to having less possessions including a lower amount to be insured. 
And I can't be thankful enough that my emergency fund is now fully funded so I can afford a higher excess.
Disclaimer: Please do your own research into your circumstances. My circumstances are likely not the same as yours. I found ASIC's MoneySmart website on Insurance very helpful.
How about you? How often do you review your insurance policies? Is there something I've forgotten to consider?