Ah, It's that time of year again.
July. Winter. Cold. Miserable.
No … July is the NEW January! I heard this recently and I LOVE it.
In the past, July is my 'recharge the battery' time and I'd head overseas for a holiday and catch up with family in Europe.
But alas, it has not been possible two years in a row.
However, even though an overseas holiday right now is out of the question, it is still my time to take stock of the previous six months and enter the second half of the year strong.
It's a kind of … ok, never mind if you haven't started any of your goals you set in January, let alone achieved them … you have another six months up your sleeve … chop, chop now.
So, how was my fist six months of the year?
Let's dive in.
Disclosure: Please note that I may benefit from purchases made through my affiliate links below, at no cost to you
Goal 1: Create another income stream
This one threw me out of my comfort zone BIG time.
In all my life, I've relied on my full time job to survive. And I've done all right with it – bought and fully paid off a house, saved a little in retirement account, gone on numerous overseas holidays etc.
But I can see how the pandemic has affected my workplace and how hard we try to keep afloat. It becomes increasingly important to me to develop some additional income streams.
Just in case.
I can always look for extra weekend shifts elsewhere but doing what I do professionally doesn't bring me joy anymore.
So the goal was to earn some income from the blog where I was spending the majority of my free time anyway. I'm not looking for profit right now but just enough to break even with my expenses will be very exciting.
Gosh, the steep learning curve combined with impostor syndrome, procrastination and perfectionism nearly did me in!
There was so much to wrap my head around – the technical issues with various platforms, design and marketing, just to name a few. I didn't know how to do any of this six months ago.
I'm not a technical person by any stretch of the imagination so I really struggled with all of that.
BUT you know what, I felt so accomplished when the emails went out as scheduled after I changed email provider; when I received my first payments for the Late Starter to Fire Action Plan – the payment system that I finished setting up at 4am actually worked! Woohoo!
Whenever I bemoan the fact that I am too old to learn all these new systems, my blogging buddy reminds me that my whole online persona is about starting late … and she is right. And I get on with it.
As a result, I have learned so, so much and gained new skills I never dreamed I would need but best of all, I've learned a lot about myself.
I've never tracked my blog expenses in the past. But since I decided to try and earn an income, I started tracking for the first time. So far, in the last six months, my expenses are more than double my revenue so definitely a long road ahead yet 🙂
Besides the blog, I'm answering surveys with Octopus Group and have managed to earn a few hundred dollars this way.
Goal 2: Invest $30k in shares portfolio outside superannuation
I reduced my salary sacrificing into superannuation (super), my retirement account in January. I'd calculated that I would probably reach Coast FI soon and therefore even if I stopped contributing extra into super, the amount currently in super would grow to the figure I need when I can finally access it at 60 years old.
I reached Coast FI in mid April, yay!
So the extra funds are now diverted to my shares portfolio outside of super. This is my 'bridge the gap' fund – to support me between 55 and 60.
After some fits and starts, I finally settled into a system to invest $3000 every 5 weeks.
I chose to set up auto invest function with Pearler (affiliate link), a new broker dedicated to long term investment and achieving financial independence. Their ethos totally fit in with my investment strategy. The problem is that I found their platform a bit glitchy.
I was used to investing with CommSec which was fast and seamless – once you link an account with your brokerage account, it's really easy. But it was also $10 more expensive per trade compared to Pearler.
And I love Pearler's autoinvest feature despite its initial glitchiness.
So I persisted with Pearler. And to give them their credit, they have listened and are trialling a new faster way to accept deposits and buy shares. So, all good.
I'm tracking well here – so far in the first six months, I've invested $15900.
As I wrote earlier, menopause and pandemic eating is not a good combination!
Even before the pandemic, I'd wanted to lose some weight – the kilograms just creep up and up.
But I never had a plan besides to eat less and exercise more.
In February, I read Michael Moseley's books The 5:2 Diet and The Fast 800 Diet. In the past, I thought these diets were fads and didn't try them.
I started with the 5:2 diet after reading this book first and then swapped to intermittent fasting after reading the second book. It was a game changer!
I now try to eat between 12pm and 8pm but will have a cup of coffee at around 8am. I just cannot function without my cuppa in the morning!
So far, I've lost 6kg. I'm struggling to lose the next 1kg since the end of May but I am persisting. Ever since April, when chocolates reentered my life after Easter, I've been losing the battle with chocolates.
My friend and I are still trying to walk after work. But are easily derailed when either of us has a valid excuse not to walk eg I have to stay back late at work or she has to leave work early to take her mother to a dental appointment.
But the important thing here is we are still persisting.
Focus on your Key Goals and Stay on Track to FIRE
Use this FREE FIRE Goals Plan every month to set & achieve your goals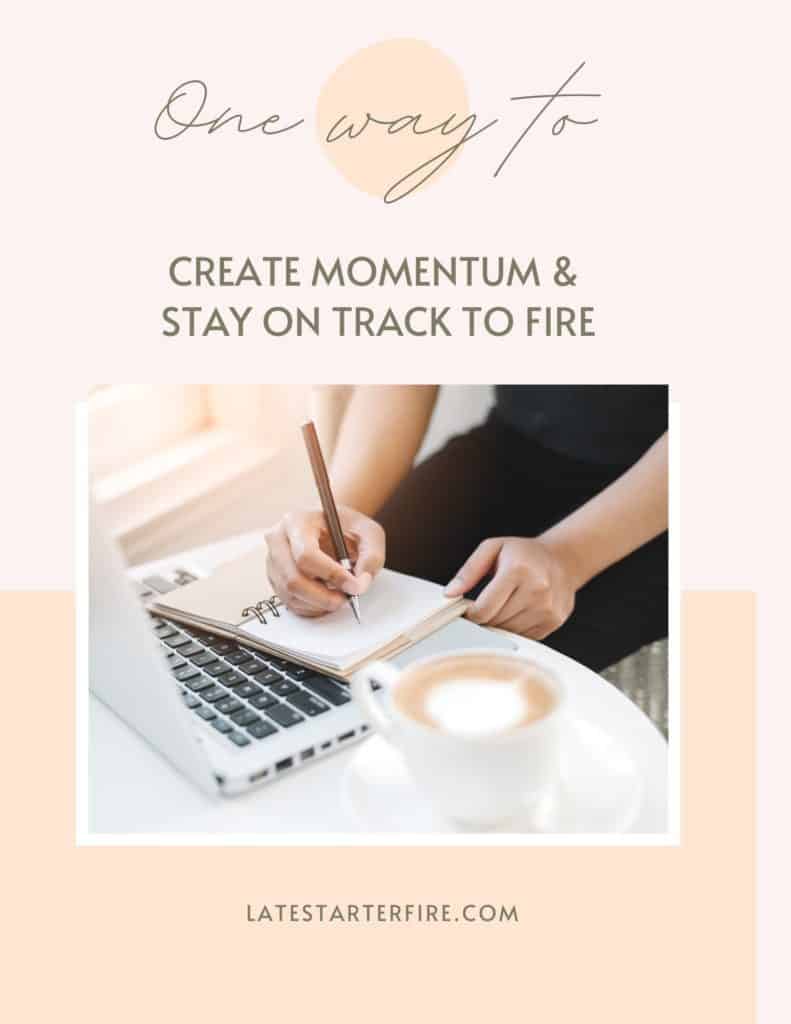 Goal 4: Be semi self sufficient in vegetables
I had increased my capacity by another 3 wicking bed boxes in December 2020. Because they are situated in a shadier part of the garden, I'm struggling to find the appropriate vegetables to plant.
So far, bok choy, cos lettuce, chillies and eggplants have survived quite well.
The boxes at the front of the house would be more productive except for the snails and slugs. I wasn't as vigilant and they decimated my brussel sprouts. I hope the Chinese broccoli fare better as I've scattered broken egg shells around them in an attempt to repel the snails. The snow peas are doing well, as are the garlic.
The summer was productive in basil, beans, tomatoes, cucumbers and capsicums. As an experiment, I dug up a few capsicums and eggplants and plonk them in pots in the greenhouse. Not sure if they'll survive the winter. My plan is to take them out in late Autumn.
The wonderful thing about growing your own vegetables is that it is all a big experiment. And when something works, you have to remember how to replicate it. Conversely, if something doesn't work out, it can be maddening trying to work out why.
I will continue to experiment.
At the start of 2020, I narrowed down to 3 goals to achieve in this decade. They are, in no particular order – visiting Antarctica, running a marathon and retiring at 55.
I thought the Antarctica goal would be knocked off at the end of this year. But after putting down a deposit with a tour company with Frogdancer Jones, I pulled out. The situation with Covid 19 was just too uncertain for me. It was stressful planning for all the uncertainty.
Will borders (Australia and Argentina and any other countries we may visit) open in time for us to get there before the cruise sails from Ushuaia? Will we have to quarantine in South America? How about when we return?
I wasn't keen on quarantining anywhere as it would take precious time away from seeing a new city and country. And I definitely wasn't keen on hotel quarantine back in Australia – neither the cost of it – approx $3000 for 2 weeks nor the fact that I live alone and can therefore quarantine at home quite comfortably.
For a period of 2 weeks or so, when I was considering the possibility and doing preliminary research – you know the bit where you are researching all the things to do and eat in a place to determine how long you should stay – it was so exciting. I clearly miss the thrill of planning a holiday. Never mind, Easter Island … we'll get there some day.
Running a marathon – no progress here at all. But I figure the less weight I carry, the easier it would be to run so maybe I'm making progress in a different way 🙂
Retiring at 55 – this seems possible but scarier as the time nears. I do really want to retire fully at 55 but am open to working a shift or two in the evenings with good penalty rates.
Hitting the Coast FI milestone did make me wonder if I could afford to work 4 days a week. The choice is to continue working full time for five more years (if my job survives that long) and definitely retire at 55 OR work 4 days a week and take longer to retire. For the moment, I've decided to just look at one year at a time.
It's been an expensive six months, the culprits being medical expenses and home maintenance. I have already spent two thirds of what I spent in 2020.
I am very thankful for Australia's Medicare system and that I can afford additional private health insurance to assist with costs not covered by Medicare.
It was interesting navigating the healthcare system from a patient's perspective. I'd always been relatively healthy and never needed anything more than a GP consultation and blood tests.
During a 3 month period this year, I had numberous GP visits, specialist consultations, an ultrasound, culminating in a day surgical procedure at a private hospital.
Between Medicare and my private health fund, I was out of pocket by just over $1000 ($750 excess and out of pocket fee from my anesthetist) for the day procedure.
BUT luckily, around the same time, I also received my tax refund (from last financial year) to nearly the same amount, so I was covered.
And yes, I know I should do my taxes the second the end of the financial year (June 30) rolls around, but I'm always late and until my accountant tells me I will be charged a late fee …. (sorry, that Obliger in me again … only responding to external deadlines!)
Oh, and all the tests came back negative, thankfully! That peace of mind is priceless 🙂
One day in early December, I'd left the house with the dishwasher running. When I returned 8 hours later, water was gushing out of a broken pipe under my sink.
Sometime in January, my dishwasher (which I suspect was the original culprit that somehow caused the pipe to burst?) finally died. Then the washing machine died the following month.
These were anticipated as they were both very old. The dishwasher came with the house and I bought my washing machine when I first moved in 18, 19 years ago. I did start a home maintenance sinking fund but it wasn't quite enough and I had to raid the emergency fund.
In the meantime, I lodged a claim with my home and contents insurance. Things moved at a glacial pace. Because of our long lockdown in July last year, a lot of building or renovation work was delayed and builders are still catching up. So it took ages for a builder to assess the floor. When he finally came, he pointed out the damage to the timber floor and skirting boards. And the claim was accepted by my insurance company.
Then Melbourne went into lockdown in mid February which delayed the floorer coming out to assess the floor. He disagreed with the builder on one aspect. I had an open plan set up and while the water washed over two thirds of the floor, his opinion was we couldn't fix two thirds of it and try to match the existing varnish. We have to do the whole floor.
So it went back to the insurance company and deafening silence ensued. One day, many months later in May, I received a call from the insurance company. They are happy to pay out a revised claim but only for doing two thirds of the floor and it was up to me to find someone to do the whole floor.
So I did. After another lockdown. And another delay when the floorer's staff had to self isolate.
The insurance pay out included two weeks of alternative accommodation as the smell of the varnish was too strong for anyone to remain in the house. I saved this and moved back in with my parents for a few days. The money saved replenished my emergency fund.
Sometime in the middle of the floor saga, I had insulation installed in my ceiling. This was something I wanted to do last year after a home audit found there was negligible insulation in the ceiling – an R1 rating whereas the standard these days is an R5 rating.
This should help to reduce the cost of heating and cooling my house. I am particularly keen to reduce my gas bills. Cooling the house isn't so bad with my solar panels. My electricity bill is very low compared to the cost before the panels were installed.
It's been an intense and expensive first six months of the year for me.
It's kept me on my toes, with so many new experiences – navigating the healthcare system, argy bargy with the insurance company, organising the floor project, trying to earn an income from the blog ….
In terms of achieving my 2021 goals, I am on track and progressing.
Phew! May the second half of 2021 be just as exciting and filled with more new experiences. Bring it on!
How was your first half of 2021?