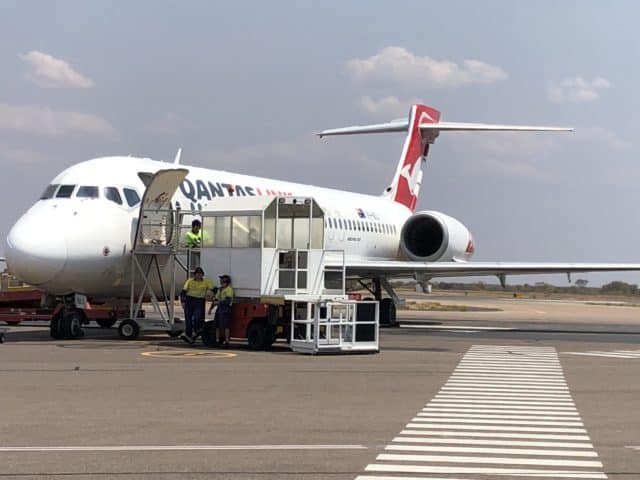 I recently discovered the concept of FIRE (Financially Independent Retire Early) in my late 40s. So it's been a whirlwind – implementing as much of what I learned in online FIRE communities as I can in my daily life.
I cut out takeaway cappucinos, bought lunches, takeaway dinners and haven't bought any clothes in six months. I merged my superannuation accounts and now salary sacrifice into my superannuation. I opened zero fee online high interest savings accounts and set up an emergency fund. I track my expenses. I invested in the stock market, buying low fee LICs (Listed Investment Companies) & ETFs (Exchange Traded Funds). The list goes on …
Related content: 
The journey begins
Frugality Attempt                                                                                                          Emergency Fund … Mojo … F*U Money
Five Reasons Why I Track My Expenses
Then I went on holidays … to Uluru in remote outback Australia
Ok – this was a good thing as the company I worked for won an incentive award. The reward was a weekend trip to Darwin in the Northern Territory with other winners. My colleague and I then took the opportunity to extend this trip  by another 4 days to Uluru (Ayers Rock).
The award sponsors paid for the first part of our trip in Darwin. What was covered – flight from Melbourne to Darwin; hotel accommodation for two nights; drinks on Friday night watching the sunset; awesome outdoor activity on Saturday involving seaplane, airboat, splashing in a crocodile cage; award dinner; transportation between hotel & airport. Fantastic!
We paid for the second part of the trip ourselves – our four nights, five days in Uluru – our real holiday. Because we didn't know for sure we would win the trip to Darwin, we couldn't book any activities or hotel accommodation in Uluru early or to take up any special offers. Also, we couldn't choose different dates as it was all tied to the free weekend trip. It turned out to be the tail end of the peak season.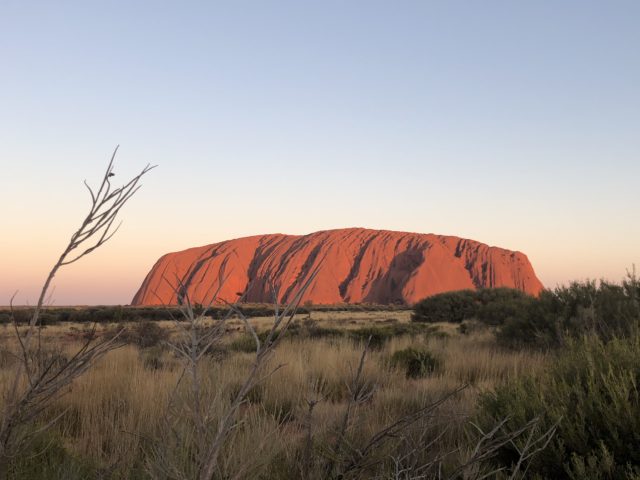 Uluru is an amazing, amazing place – the remoteness, the uniqueness of its landscape, the heat, the people. BUT it is also an expensive place to holiday in, due to its remoteness  The closest big town is Alice Springs, 450km (280 miles) away to the north by road.
There is only one resort that you can stay at. It does offer accommodation options to suit all budgets from five star hotels to a camping ground. But for the dates we wanted, everything including the camp ground was fully booked so we didn't have a choice of accommodation. We had to split our stay between what was available. Our four nights accommodation cost $613 per person, staying three nights at the second cheapest hotel & one night at the cheapest hotel.
We did have a win in that we bought our flight from Uluru to Melbourne for $199 in a flash sale from Jetstar. Our flight from Darwin to Uluru via Alice Springs was partly covered by the sponsors. We paid the difference ($256) between this and the return flight from Darwin to Melbourne. Believe it or not, it is cheaper to fly from Darwin to Melbourne (flying distance 3148km or 1956 miles) than from Darwin to Uluru (1426km or 886 miles).
You Only L
ive Once (YOLO)
I love to travel. Is this an appropriate time to confess that my travel savings account is healthier than my emergency fund? That I had a travel fund way before I had an emergency fund? Oops.
When I am travelling, I love experiences – this is where my YOLO philosophy kicks in. You never know when you would ever return to a destination.  So my philosophy has always been to enjoy & experience as much as I can while I can at any holiday destination. After all, you only live once. My colleague has the same philosophy so it was a potent combination.
For the first time since I started tracking my expenses, I was reluctant to record them.
There are a plethora of activities offered at Uluru from helicopter rides over Uluru to hiring a bike to circle the base of Uluru. We chose four activities that both of us wanted to do very much.
We had the most amazingly beautiful bush tucker fine dining experience as the sun set over Uluru, under the blackest sky littered with sparkling stars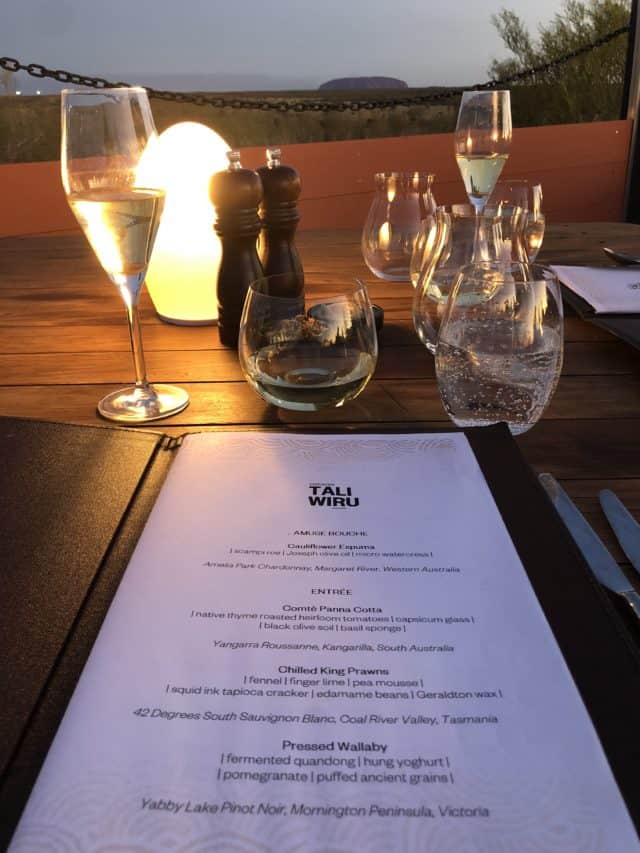 We joined a camel tour at sunrise – my first ever camel ride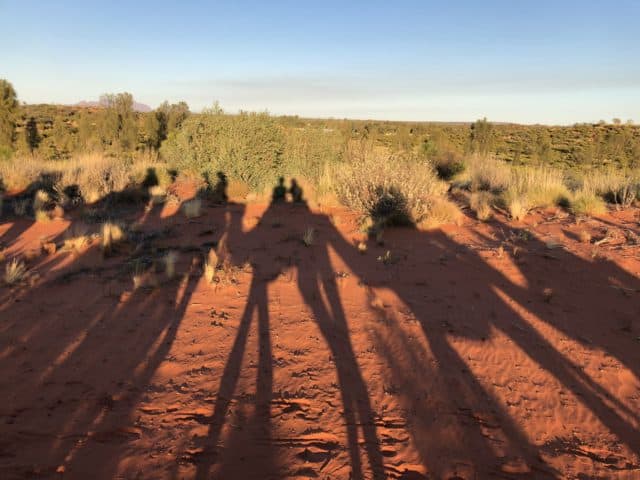 We visited the Field of Lights – an art installation of 55 000 globes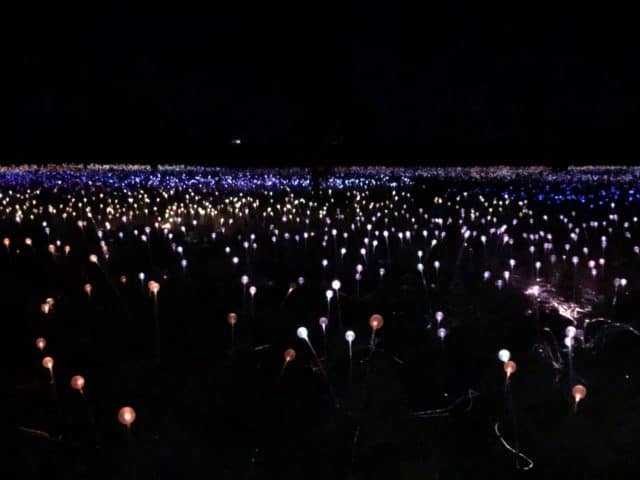 We did a dot painting workshop & learned all about the meaning behind symbols used in Aboriginal art. Plus attempted our own artwork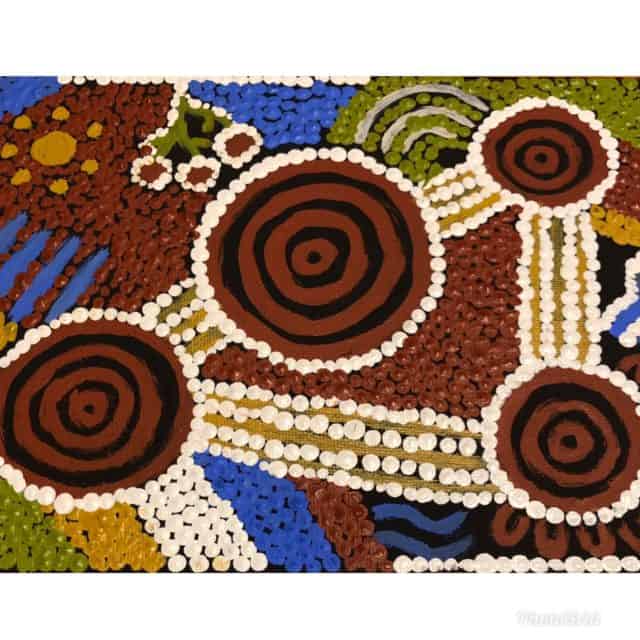 All these activities cost a whopping $564 per person. Plus 3 day car hire $146 and petrol cost $33 (at $2.23 per litre!); National Park 3 day pass $25; all meals, food & drink $139 (excluding special dinner under the stars); Souvenirs & gifts $140; which brings the grand total to $2115 per person! Ouch!
Free activities
We did lots of free things too.
We walked around the base of Uluru – around 12km. Part of this walk was with a park ranger who explained the significance of the local Anangu people's creation stories & culture around Uluru. It has always been a spiritual place & a sacred site for the Aborigines in the area for thousands of years. It was so special to walk around it & feel that spiritual presence for ourselves.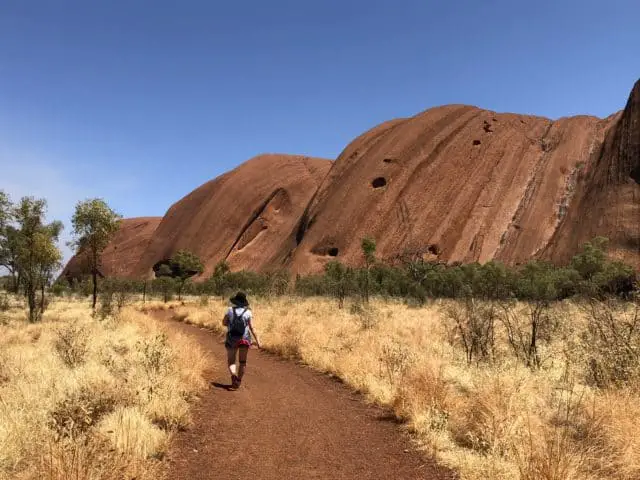 Sunrise & sunset at Uluru are the two must do experiences. These were free too.
We walked along rocky trails at Kata Tjuta (The Olgas), located about 50km from Uluru. The loose rock trails were challenging in parts but so rewarding. I can't describe the sense of achievement I felt at climbing up a rock wall and then walking down same wall – terrifying but exhilarating at the end.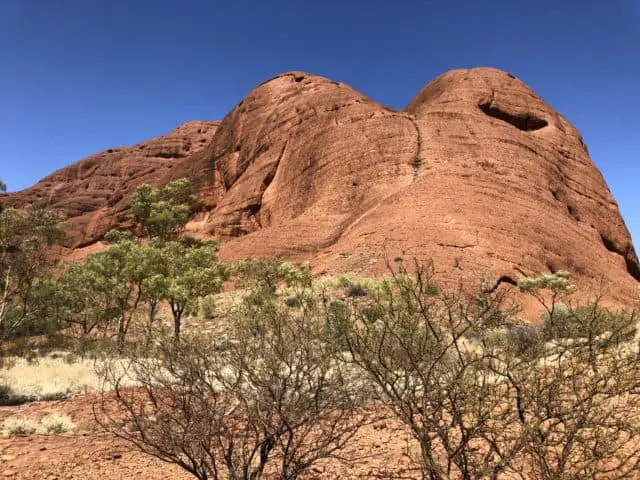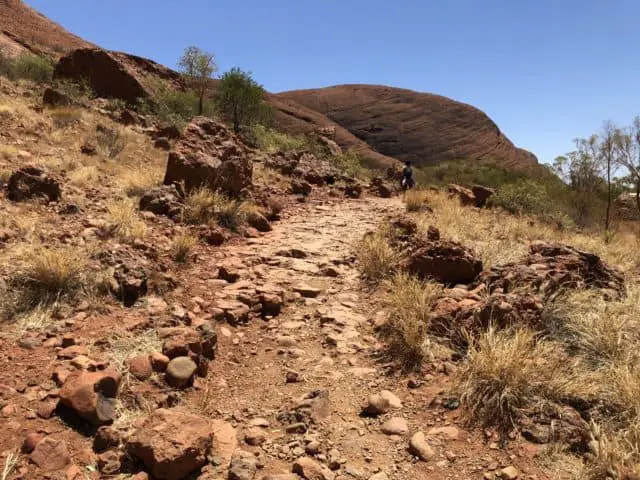 Don't get me wrong – I absolutely LOVED LOVED my holiday in Uluru – it was truly an amazing experience. I felt rejuvenated after the short break. I could rave on so much more about each of our activities. But at the same time, I had to fight my inner guilt, that niggling voice that whispered I hadn't hacked it well enough, that I was spending too much money. In reality, I didn't go into debt to pay for this holiday. I had more than enough money in my travel account to cover this.
I don't want to live a miserable life, on this journey towards FIRE. Somehow, I have to reconcile my two selves. The new me of tracking expenses, increasing savings rate. Versus the old me of hey, it's ok so long as you can afford it and hey, I can always replenish my travel fund again, no worries.
I need to find balance and live an intentional life while managing my conflict between wanting to achieve FIRE and my YOLO tendency. It is a work in progress.
What did you feel guilty spending money on after starting your FIRE journey?